Please leave the slicer & automatic peeling machine of Grasseri to us Hiraiwa Netsugaku
!
Grasseri is one of the world's largest company specializing in meat slicers and peelers, headquartered in Italy founded in 1974.
Glasseri equipment has been installed in 50 countries around the world, mainly in Europe and North America. We at Hiraiwa Netsugaku have exclusive sales rights in the Japanese market for products manufactured by Grasseri(Italy). A slicer (KSL series) can be demonstrated at our test center. Please feel free to contact us.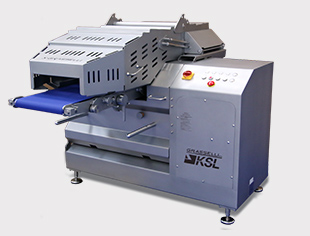 Slicer (KSL series)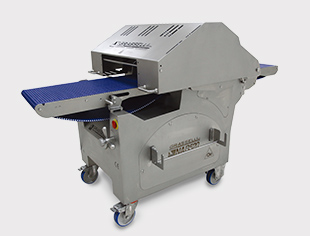 Automatic skin removal machine
(NAB series)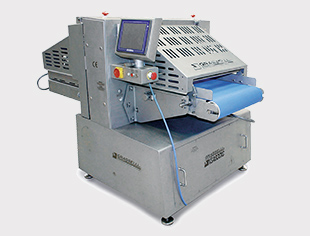 Slicer (NSA XC series)
Slicer (KSL series)
Horizontal slicer for fresh boneless meats with a cutting capacity of over 2,000 kg/h and extreme
precision in the thickness of the slices.
It is intuitive to operate and easy to set up and install, so you can greatly improve your productivity by installing it. In chicken processing factories, it is often used as a slicer for chicken fillets.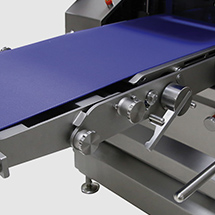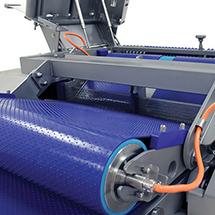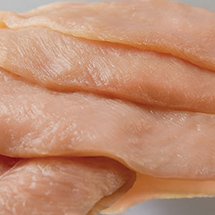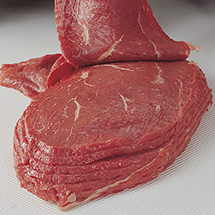 KSL horizontal slicer
Perfectly parallel horizontal slices with the Grasselli multi-blade cutting system.
Minimum thickness of 2.5 mm and a maximum product height of 100 mm.
Cutting capacity of over 2,000 kg/h exclusively for fresh and cooked boneless meats.
Working speed adjustment of ±40% and lever to adjust the thickness of the first slice.
Fully adjustable cutting parameters for the best output also for particularly delicate products ("through slicing" option for a 100% throughput).
Automated blade tension adjustment system.
It is also possible to customize the KSL series slicer for each meat product by taking advantage of the various optional feed belt surface textures.
Possibility to be placed in completely automated lines. Automated blade tension adjustment system.
No tool necessary to prepare the machine for sanitation and no part to be disassembled.
All main power units are equipped with an automatic lubrication system.
Pieces subject to mechanical stress produced with special heat treated steel.
Cutting-edge design with continuous welding and rounded edges to ensure optimum hygiene.
This slicer is equipped with two cutting lanes due to the dual lane specification (each lane can be adjusted), and it is possible to slice from a minimum width of 6 mm. Butterfly cutting option can be applied in the machine.
Frame built completely in tested and certified food-grade Stainless steel.
| Technical data | KSL400 | KSL600 | KSL800 |
| --- | --- | --- | --- |
| Height | 1250 mm | 1405 mm | 1311 mm |
| Width | 1480 mm | 2021 mm | 2021 mm |
| Depth | 1846 mm | 1846 mm | 2342 mm |
| Weight | 630 Kg | 990 Kg | 1140 Kg |
| Motor power | 2.2 Kw | 2.2 Kw | 2.2 Kw |
| Noise level | 71 db | 71 db | 71 db |
| Maximum working width | 380 mm | 600 mm | 380 + 380 mm |
| Maximum product height | 100 mm | 100 mm | 100 mm |
| Minimum slicing pitch | 2.5 mm | 2.5 mm | 2.5 mm |
| Operator control circuit | 24 V | 24 V | 24 V |
| Air consumption data | 20 l/分 | 20 l/分 | 20 l/分 |
Automatic skin removal machine (NAB series)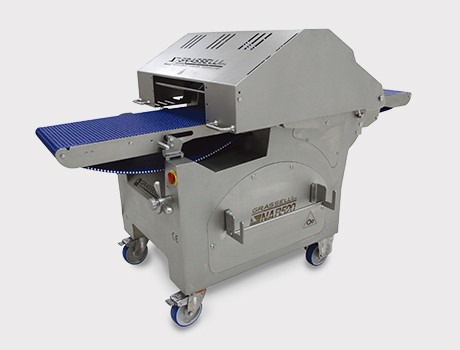 Useable working width of 520 or 720 mm.
Each control unit is integrated into one part, so hygiene management can be performed compactly.
And contamination and interference due to contact with meat products can be prevented.
Built-in derinding (including defatting) thickness adjustment control.
Toothroll in special, highly resistant steel for greater durability and constant efficiency over time.
The tooth roll "skin start system" is pneumatically controlled, making it ideal for peeling any meat products.
Product pressure roller with hydraulic control, fully adjustable, and various types of rubber rollers for all
applications.
Fixed (non-removable) hinged guard, damped by means of stainless-steel cylinders.
Height-adjustable outfeed conveyor belt.
Slicer (NSA XC series)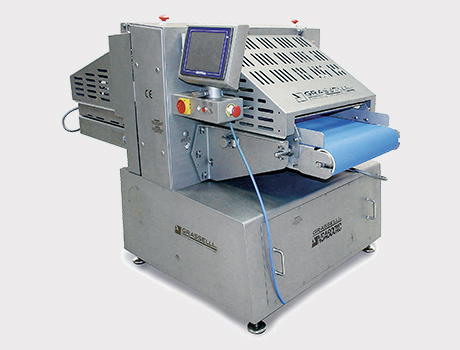 Chicken processing solution
Slicer for 2D cutting, able to produce strips or cubes with even or slightly irregular dimensions (for a "hand-cut" effect).
In combination with the horizontal KSL slicer, a production line can be obtained for fully controllable, 3-dimensional cutting.
Meat without born (both raw and cooked), the maximum working width is 610 mm or 1000 mm and the minimum slice thickness can be set to 3 mm or 5 mm.
Infeed and outfeed conveyor belts enable the product to be prepared fully in-line.
Design and technical solutions for a perfect sanitization, suitable for ready-to-eat (RTE) processing environments.
External electrical / electronic control is possible.
Thorough hygiene management is achieved by adopting a waterproof drive system.
Both slicing speed and product control pressure are fully adjustable.
With the optional Blade Quick Replacement (QBC) system, slice sets can be replaced in just minutes.
Automatic lubrication system.
Equipped with an automatic leveling function.
Hygiene management and blade replacement can be performed without using any dedicated tools.
| Technical data | NSA600 | NSA1000XC |
| --- | --- | --- |
| Height | 1422 mm | 1490 mm |
| Width | 1200 mm | 1950 mm |
| Depth | 2175 mm | 2177 mm |
| Motor power | 15 Kw | 16.5 Kw |
| Weight | 1150 Kg | 1300 Kg |
| Maximum 3D cutting width | 5 cm | 5 cm |
| Minimum slicing pitch | 3 mm | 5 mm |
| Maximum working width | 610 mm | 1000 mm |